Cloud Robotics and Automation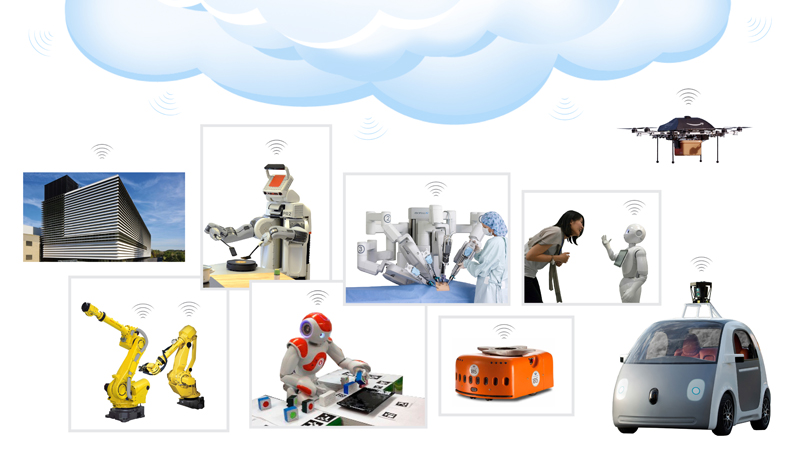 What if robots and automation systems were not limited by onboard computation, memory, or programming? This is now conceivable with wireless networking and rapidly expanding Internet resources. In 2010, James Kuffner at Google introduced the term "Cloud Robotics" to describe a new approach to robotics that takes advantage of the Internet as a resource for massively parallel computation and sharing of vast data resources.
The Google autonomous driving project exemplifies this approach: the system indexes maps and images that are collected and updated by satellite, Streetview, and crowdsourcing to facilitate accurate localization. Another example is Kiva Systems new approach to warehouse automation and logistics using large numbers of mobile platforms to move pallets using a local network to coordinate planforms and update tracking data. These are just two new projects that build on resources from the Cloud.
Steve Cousins of Willow Garage aptly summarized the idea: "No robot is an island." Cloud Robotics recognizes the wide availability of networking, incorporates elements of open-source, open-access, and crowdsourcing to greatly extend earlier concepts of "Online Robots" and "Networked Robots".
Cloud Robotics has potential to improve performance in at least five ways: 1) Big Data: indexing a global library of images, maps, and object data, 2) Cloud Computing: parallel grid computing on demand for statistical analysis, learning, and motion planning, 3) Open-Source / Open-Access: humans sharing code, data, algorithms, and hardware designs, 4) Collective Robot Learning: robots sharing trajectories, control policies, and outcomes, and 5) Crowdsourcing and call centers: offline and on-demand human guidance for evaluation, learning, and error recovery.
A Survey of Research on Cloud Robotics and Automation. Ben Kehoe, Sachin Patil, Pieter Abbeel, Ken Goldberg. IEEE Transactions on Automation Science and Engineering (T-ASE): Special Issue on Cloud Robotics and Automation. Vol. 12, no. 2. Apr. 2015. To Appear.
Robots with Their Heads in the Clouds. Medium.com, from Aspen Ideas Festival Talk. Posted Aug 2014.
New Research Center Aims to Develop Second Generation of Surgical Robots. John Markoff, NY Times, Oct, 2014.
The Robot in the Cloud: A Conversation With Ken Goldberg. Quentin Hardy, NY Times, Oct, 2014
The RoboBrain Project. Aug 2014.
Cloud Robotics. The Atlantic, by Megan Garber. June, 2014.
DARPA on Cloud Robotics. April 2014.
Big Push in Robotics Now Seems Imminent. The Economist. 29 March 2014. (Cloud Robotics discussed in last section).
Robot Roundup. NPR Science Friday by Jordan Davidson. 26 March 2014. (Cloud Robotics discussed in last section).
T-ASE Special Issue on Cloud Robotics and Automation. Submissions now closed: To Appear in 2015.
Moments that Stood out at SXSW: Panel on Cloud Robotics and Automation. Wall Street Journal, 11 March 2014.
Panel on Cloud Robotics and Automation with James Kuffner of Google, Ayorkor Korsah of Ashesi Univ in Ghana, and Ken Goldberg, UC Berkeley. SXSW. Austin, TX, US. Mar 9, 2014.
Cloud Robotics in "Why We Love Robots." Short Documentary Film including section on Cloud Robotics. (Nominated for Emmy Award and winner of Botscar Award at Robot Film Festival), Oct 2013.
Cloud-Based Robot Mapping. June 2013. Vlad Usenko, Markus Waibel, Mohanarajah Gajamohan, Dominique Hunziker, Dhananjay Sathe, Mayank Singh.
Cloud-Based Robot Grasping with the Google Object Recognition Engine. Ben Kehoe, Akihiro Matsukawa, Sal Candido, James Kuffner, and Ken Goldberg. IEEE International Conference on Robotics and Automation. Karlsruhe, Germany. May 2013.
Cloud Robotics and Automation: A Survey of Related Work. K. Goldberg and B. Kehoe. EECS Department, University of California, Berkeley, Technical Report UCB/EECS-2013-5. January 2013. [pdf]
"USD 10 Robot" Design Challenge Winners. Results of an open design competition for an affordable robot for K-12 education, 2012. Organized by the African Robotics Network.
Toward Cloud-Based Grasping with Uncertainty in Shape: Estimating Lower Bounds on Achieving Force Closure with Zero-Slip Push Grasps. Ben Kehoe, Dmitry Berenson, Ken Goldberg. IEEE International Conference on Robotics and Automation. May 2012.
Cloud Robotics: Connected to the Cloud, Robots Get Smarter Erico Guizzo. IEEE Spectrum. 2011.
In June 2011, President Obama announced the U.S. National Robotics Initiative, earmarking over $70M for new research.
CloudRobotics.com: ROS in Java for Robots using Android phones and tablets by Damon Kohler (Google Munich), 2011.
RoboEarth - A World Wide Web for Robots Markus Waibel, Raffaello D'Andrea et al. 2011.
Cloud-Enabled Humanoid Robots, James J. Kuffner. IEEE-RAS International Conference on Humanoid Robotics. 2010.
IEEE RAS Technical Committee on Networked Robots