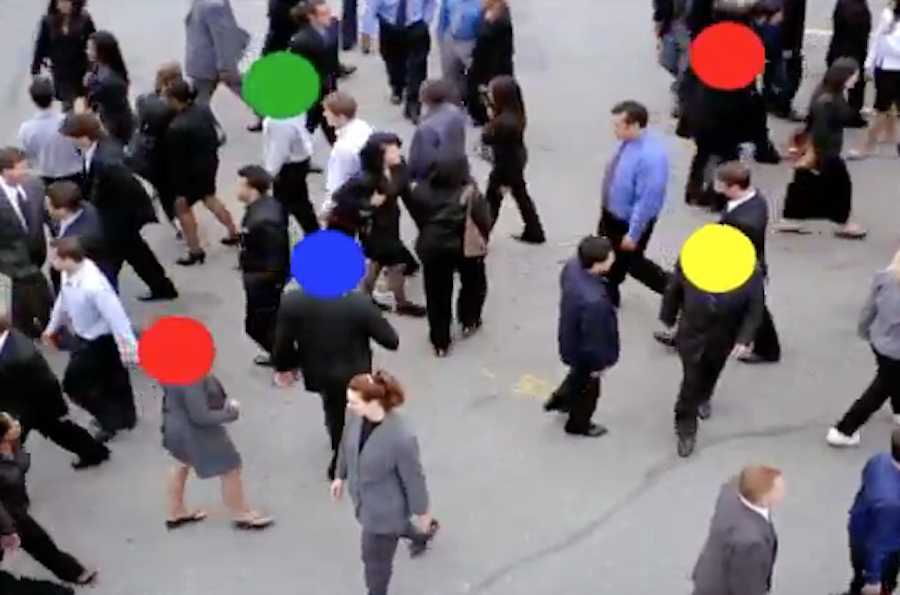 Baldessari in Motion 2006

---
Computer vision system with custom software, readymade hats, digital video loop.

Courtesy of the artist and Catharine Clark Gallery, San Francisco
Text by Cathy Kimball, Director, San Jose Institute of Contemporary Art:
"Since 9/11, issues of privacy have gained increasing importance in the public and political discourse. From a dramatic increase in surveillance cameras to legislation that includes the Patriot Act, the way we are fighting "the war on terror" is an emotionally charged debate that straddles a fine line between security and privacy.
"Ken Goldberg, artist and professor of engineering at UC Berkeley, looks at surveillance technology from multiple perspectives, exploring the extent of its capabilities and how we may limit or modify the scope of those capabilities. In new research he is doing at Berkeley, Goldberg and his collaborators are developing what they call "respectful cameras" that will be able to technically obscure the faces of people as they are observed by surveillance technology. Goldberg's video and live computer vision software illustrate the challenges inherent in such an effort.
The title of this installation acknowledges work by artist John Baldessari. In a series of photographs from the mid-1980s, Baldessari painted colored dots over the faces of the people in his photographs. By obscuring the facial details in the still photographs, Baldessari effectively denied the viewer full access to the image to emphasize the constructed aspects of photography and perception. Goldberg's installation links Baldessari's aesthetic concerns with contemporary issues in politics and technology."
Creative Team:
Concept Director: Ken Goldberg
Software design: Jeremy Schiff and Marci Meingast
Video editing: Thomas Eugene
Special thanks to: Tiffany Shlain, Deirdre Mulligan, Pam Samuelson Cameras by Panansonic Hardware on loan from: Berkeley Automation Science Lab
Exhibition History:
NextNew. Curated by Cathy Kimball. San Jose Institute of Contemporary Art. Aug-Sep 2006.


Sponsored by:
National Science Foundation
Panasonic (Matsushita Inc)
---
Contact:
Ken Goldberg
Professor of IEOR and EECS, UC Berkeley
4189 Etcheverry Hall, Berkeley, CA 94720
http://goldberg.berkeley.edu
goldberg@berkeley.edu
(510) 643-9565