flw, installation views, san jose museum of art, aug 2006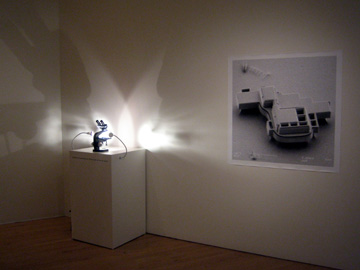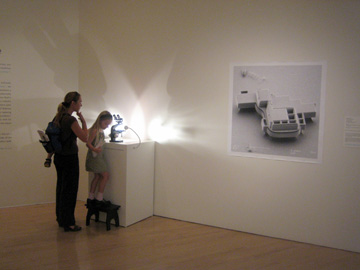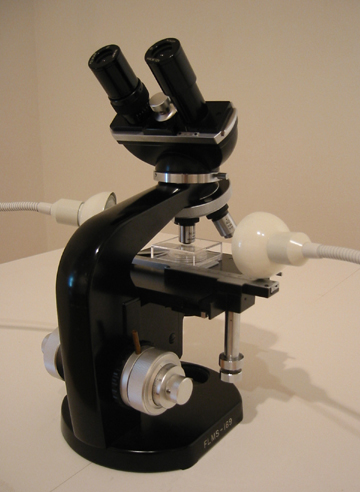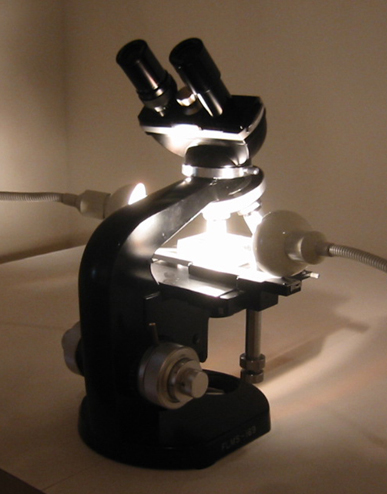 For larger images see: www.ieor.berkeley.edu/~goldberg/art/big-images/
This installation requires a museum/gallery wall and includes two components:
a 30" high wooden pedestal to hold the optical microscope with halogen lights.
a 1x1 meter B&W photo of the microstructure mounted on the wall.
The pedestal should be white, approx 30" high, about 2' x 2' square to hold the microscope. On it, we need to mount two 50w halogen lights so they point directly into the specimen tray. I have two white gooseneck halogen desklamps that I will bring, these are attached with c-clamps, see images.
Note: it is important that the microscope be securely mounted and that it be visible by museum guards who can explain that it's okay for visitors to adjust the optical eyepiece, but not to touch the lights (they get hot!) or to touch the silicon sample.
Insurance value approx $20,000.