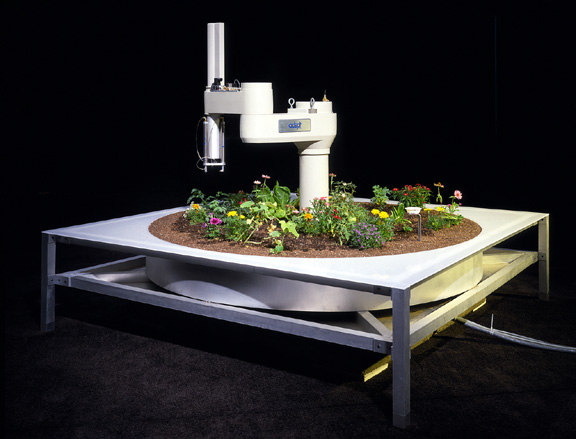 The Telegarden
1995-2004, Ars Electronica Museum, Linz Austria.

Co-directors: Ken Goldberg and Joseph Santarromana
Project Team: George Bekey, Steven Gentner, Rosemary Morris Carl Sutter, Jeff Wiegley
Ars Electronica team: Erich Berger, Gerold Hofstadler, Thomas Steindl, Gerfried Stocker
Archivist: Hannes Mayer

"Il faut cultiver notre jardin." Voltaire


The Telegarden was an art installation that allowed web users to view and interact with a remote garden filled with living plants. Anyone online could plant, water, and monitor the progress of seedlings via the tender movements of an industrial robot arm.

The Robot in the Garden: Telerobotics and Telepistemology in the Age of the Internet, Edited by Ken Goldberg (MIT Press, 2000)

3D Model of the Telegarden for 3D printers (.STL file)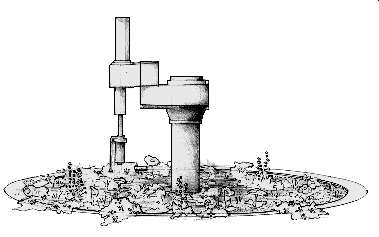 The Telegarden was developed at the University of Southern California and went online in June 1995. In its first year, over 9000 members helped cultivate. In September 1996, the Telegarden was moved to the lobby of the Ars Electronica Center in Austria, where it remained online 24 hours a day until it was decommisioned after 9 years in August 2004.


[ The Telegarden community salutes the memory of our friend Hannes "Captain" Mayer, 1976-2010. ]

``In linking their garden to the World Wide Web and creating an intuitive interface for the control of the arm and camera, the artists transformed what most would consider a fit of over-engineering into a subtle rumination on the nature of the Commons.'' -- Peter Lunenfeld, Flash Art , XXIX, 187, March 1996.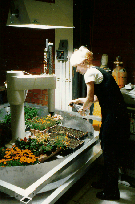 ``The Telegarden creates a physical garden as an environment to stage social interaction and community in virtual space. The Telegarden is a metaphor for the care and feeding of the delicate social ecology of the net.'' -- Randall Packer, San Jose Museum of Art, April 1998.
The Telegarden went online in June of 1995 and has been online continuously for seven years. It currently is located in the Ars Electonica Museum in Austria. Anyone can view the garden as a guest; the rights to plant and water are granted to those who agree to share their email addresses with other members of the cooperative. Activity is recorded in logs so that the cooperative can be self-governing.
``...For the experienced gardener, the TeleGarden offers a search for the sould of gardening. Sowing a single, unseen and untouched seed thousands of miles away might seem mechanical, but it engenders a Zen-like appreciation for the fundamental act of growing. Though drained of sensory cues, planting that distant seed still stirs anticipation, protectiveness, and nurturing. The unmistakable vibration of the garden pulses and pulls, even through a modem.'' -- Warren Schultz, Garden Design, Dec/January 1996.
``The Neolithic Revolution began sometime around 8000 B.C. when humans made their first successful attempts to domesticate animals and food grains.... Having learned how to assure their food supply by their own efforts, they settled down in permanent village communities.'' -- H. W. Janson, The History of Art.
``For its engaging use of the Web, bringing together an international group of strangers to explore and nourish nature in sharing a common garden, the First Prize goes to the Telegarden as a powerful metaphor for virtual communities.'' -- Jury, Festival of Independent Visual Arts (FIVA), 1995.
The Telegarden was featured on: CNN, CNet, NHK TV, Canal+ TV, NPR Radio, The Chronicle of Higher Education, New York Times, London Times, Wall Street Journal, Popular Science, Byte, FlashArt, and WiRed as well in books including Taschen's New Media Art, Thames and Hudson's Internet Art, Thames and Hudson's Digital Art, and UC Press: The Not-So-Still Life: a century of california painting and sculpture.
For a sociological study of community in the Telegarden:
"Virtual Community in a Telepresence Environment," Margaret L. McLaughlin, Kerry K. Osborne, and Nicole B. Ellison, in S. Jones (Ed.), Virtual Culture (pp. 146-168). London: Sage Publication, Inc. 1997.
Telegarden video for Tech Museum, San Jose (2004) (See below)

Telegarden video for Tech Museum, San Jose (2004)
Telegarden video (2011)